We move your credit profile over the borders.
Mifundo gives you access to credit products all over the Europe.
With Mifundo you can take your credit history with you wherever in EU you go and use it in banks to apply for a credit.
Thea Lepasaar




I'm Estonian but I live and work in Finland.




Some months ago, I rented an unfurnished apartment. I wanted to buy new furniture and needed some extra money for that. Unfortunately I was declined for a credit. Estonian banks said, that it is because I moved to Finland. Finnish banks said, that because there is not enough information about me as I have not been in Finland long enough yet. They told that I had to "build connections" with Finland for 3 years.

I feel that it is not fair that the credit history does not transfer from country-to-country and that expats have a credit score of 0 when they arrive.





I am just 80km away from where I used to live before, I did not go to the other side of the globe!




Israel Alcantarilla Marcelo




I'm Spanish and I have recently moved to Estonia. As my wife is Estonian, I have planned to stay here for a long period and I would like to buy a home for us.




I have a good credit history back at my home country, but I still got rejected from Estonian banks, because they say that they do not have any information about me. Spanish banks know everything about me, but they do not want to grant a mortgage for a property outside Spain. The reality is that I have a stable income and a good credit history but it is totally useless because banking is not borderless in EU.




I can work and live in any country, but my credit info is not coming with me. There are almost 40 million people affected by this in EU.




Piotr Nowak




I'm Polish and I lived in Sweden for over 7 years. Recently I moved back to Poland and as I have decided to stay I wanted to buy a flat.




In Sweden I had a good financial history due to stable employment with a good salary. In Poland I have also a good salary with a new employer but not yet a long relationship with them and that's why I do not have any creditworthiness in local banks.

When returning to Poland I was suddenly NOBODY. Banks declined my application and asked me to come back after 2 years – but I need the money NOW, not after 2 years.





How come in a world, with a free labor movement, there is no information movement between banks and no international credit scoring system?
97% of foreign people are rejected from banks, because banks have no capability to assess the credit risk.




There is no access to credit at all to expats & multi-country people in EU.




It is almost impossible to get a credit for a foreigner who wants to buy a real estate but does not have a bank account in the same country.

Mifundo makes your credit information visible for banks.





We have a pan-European cross-border lending platform connecting banks and people.




We will find you the best loan options.

Create a verified and passportable financial profile for yourself in Mifundo.





Find out your credit score and see your options.




Make just one loan request, get multiple offers and choose the best one for you - it is free of charge and does not impact your scores.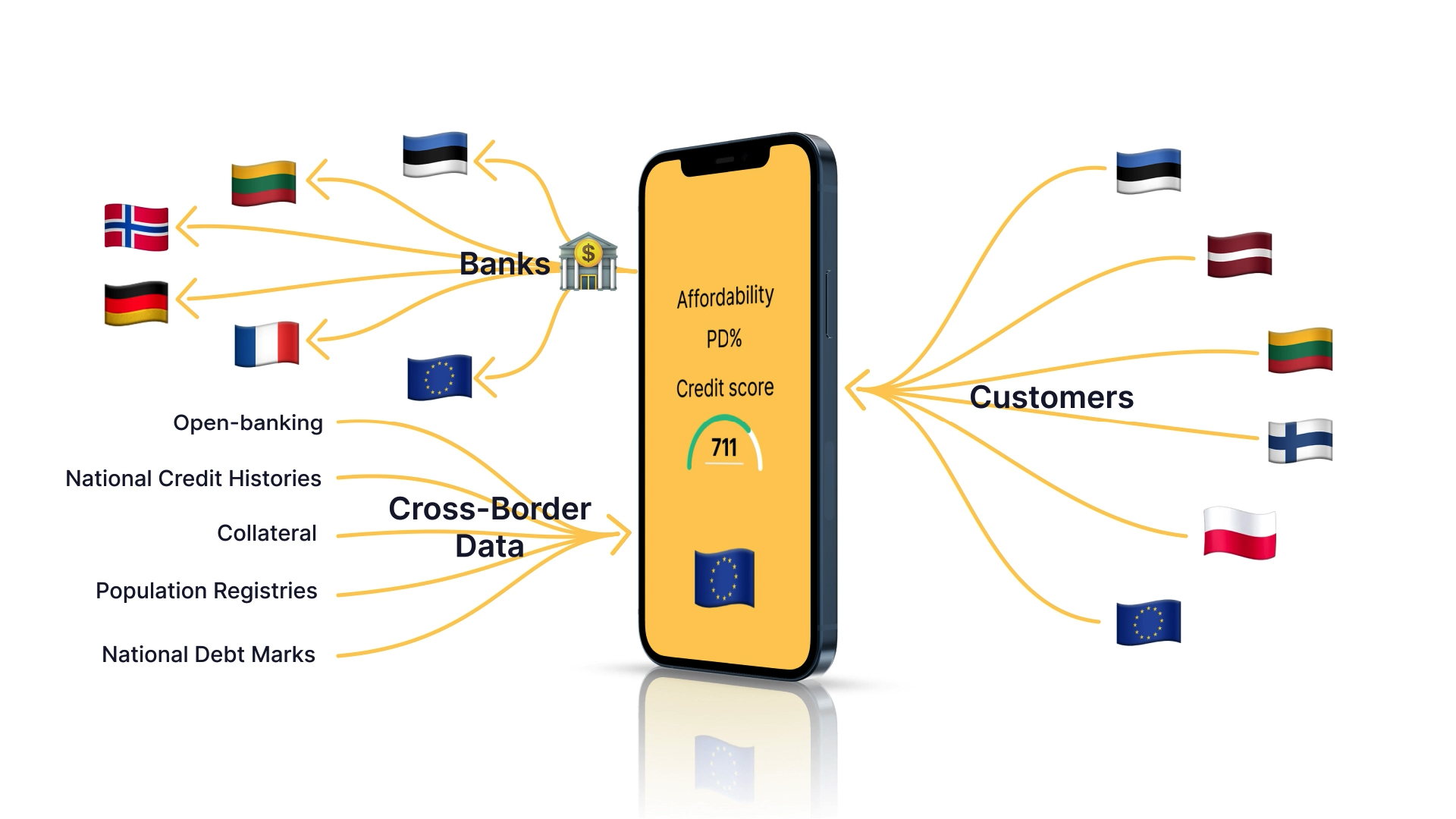 How it works?
Create a verified and passportable financial profile

for yourself and find out your credit score. It only takes a few minutes. We guide you step by step.
Make just one request, but

receive multiple offers

. Find the best loan offers from banks across Europe. Making an inquiry will not harm your credit score.
Choose the best offer

and let us handle the rest.
If necessary,

learn about options to improve

your credit score.
CREATE MY ACCOUNT